Users can pay their Texas tolls online easily and securely thanks to the website TxTag.org. You can quickly pay TxTag bill online in a few easy steps, regardless of whether you currently use TxTag or are a new user of the system. This article will discuss how to pay your TxTag bill online via TxTag.org, payment methods, what to do if you already have an account but still received a bill, and the late fee structure. If you wish to get a TxTag, take the following advantages at your comfort.
Table of Contents
Paying TxTag Bill Online
Visit the TxTag website as the first step in the online TxTag bill payment process. You will be prompted to log in or make an account as soon as you land on the page. You must create an account if you don't already have one by providing your contact details, including your name, address, and email address. You can log in and view your TxTag bill as soon as your account is created.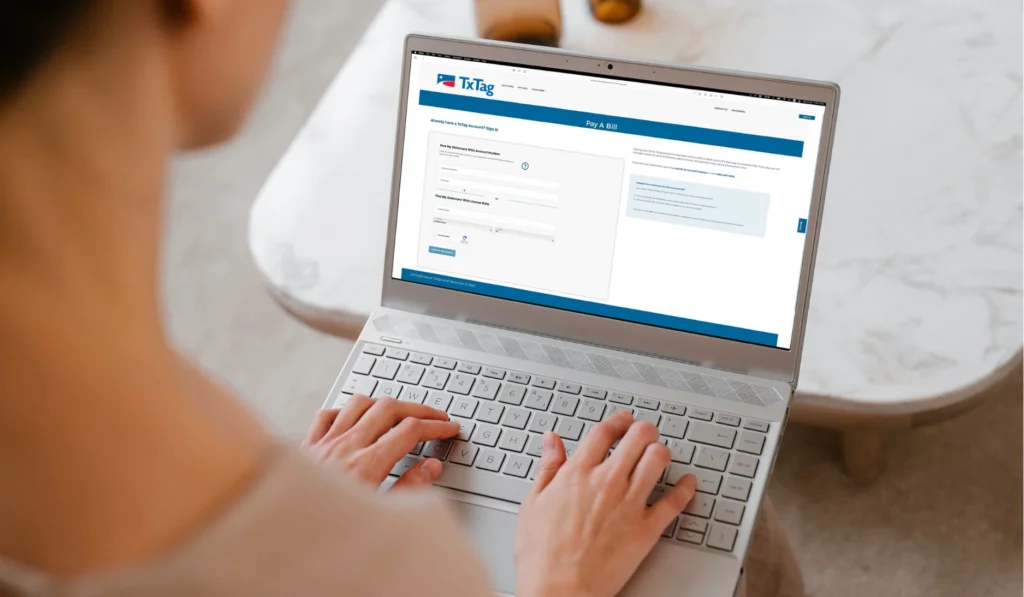 You can evaluate your payment options on the billing page and choose the one that best suits your requirements. You can use a debit or credit card to pay your bill. Once you've decided on a payment option, you'll need to fill out the necessary fields and press the "submit" button to finish your transaction.
You will be required to provide your card details, including the card number and expiration date if you choose to pay with a credit or debit card. You will get an email with all the information after processing the transaction.
Alternatively, you can follow these steps to complete the payment of pending Texas Toll tag.
1. Visit the txtag.org website.
2. Choose the 'Pay Bill' tab at the top of the page.
3. You have to two options to retreive the statement. One is with account number and other is with License plate number.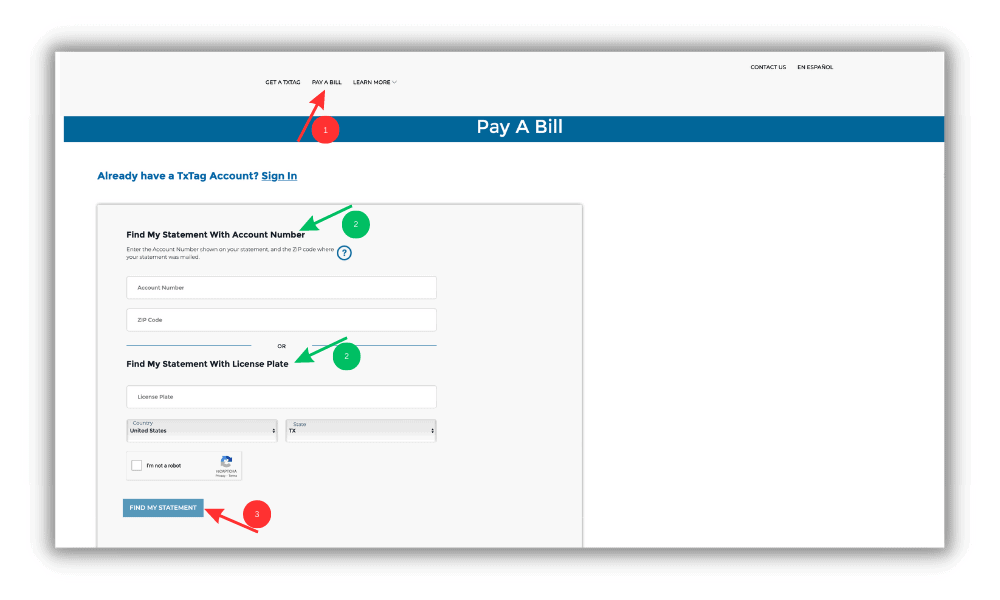 4. Choose the appropriate option and enter the details without any fail. Tap on 'Find my Statement' to fetch the recent upaid TxTag toll bill.
5. You will see the pending balance for the entered account number or license plate. Confirm the amount and choose whether to pay the full amount or custom amount.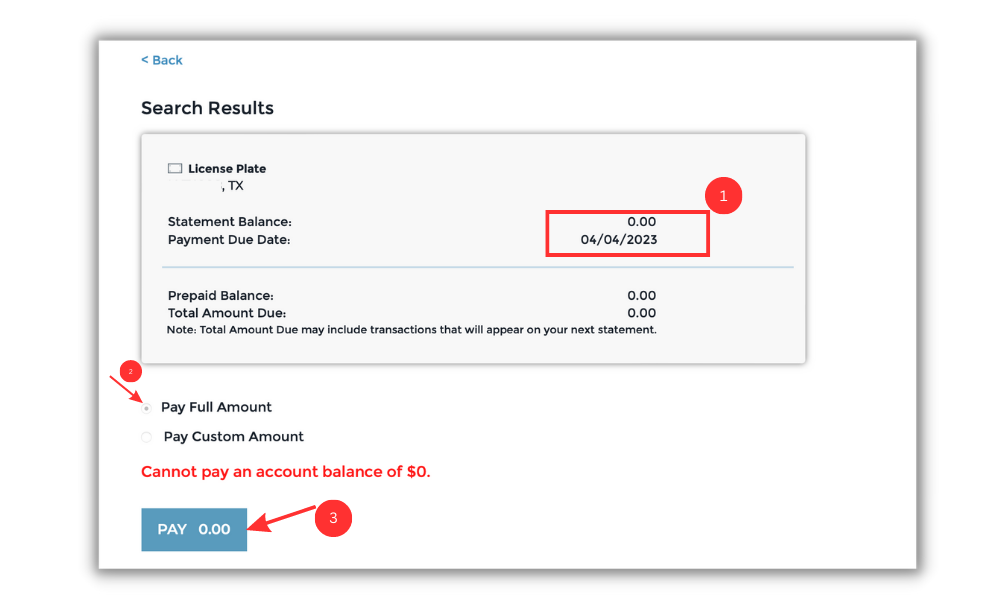 6. Enter the credit card and the contact information then save it. Tap on 'Pay & Complete' to clear the bills of TxTag toll.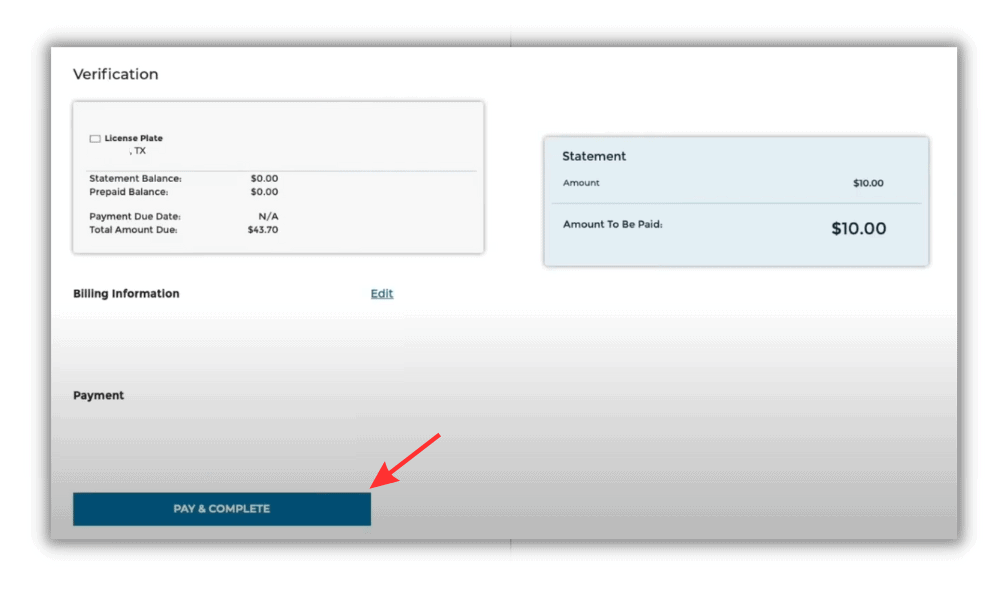 Payment Methods
Several payment options, including credit cards, debit cards, and electronic checks, are accepted to Pay TxTag Bill Online. These payment options are all safe and straightforward to use. Electronic checks can take up to three business days to process, while credit and debit cards are processed instantly.
You must enter the card details, like the expiration date and security code, if you plan to pay with a credit card/debit card. You must submit your bank account number and routing information to use electronic checks.
Already have an Account but still received a bill.
If you already have an account with TxTag and have gotten a toll bill, it was either because there needed to be more funds to Pay TxTag Bill Online for your trip's tolls or the license number didn't match with the information on the toll tag account. You'll need to check your account or fund the Texas Toll Tag to fix the problem.
Call or email TxTag customer service care if you still need assistance. You can get help from the representative in addressing the problem and making sure that all of your tolls are paid on time.
Late Fee Structure
If you fail to pay your TxTag bill on time, you will be subject to a late fee. A customer needs to pay a late fee of $4.00, which is applied to the monthly statements and the past due amount. The one without using the TxTag will be charged at higher Pay by Mail toll rates with an additional $1.15 and be sent via mail.
Tips to avoid the extra fee
Keep money in your txtag account
Enable autopay
Pay statements online
Ensure your account information is up to date
Update the TxTag account when you change the number plate
Update your vehicle registration number when you move to another place
Notify TxTag if the vehicle is sold or stolen
It's important to remember that the late fee structure could alter at any time. Make sure to pay your vehicle TxTag bill or fund your tag regularly to avoid unnecessary extra fees. Read this article to know more about what happens if you don't pay tolls in Texas.
It's easy for you to pay TxTag bill online. Go to the TxTag.org website, sign in or create an account, and choose your option to pay. You will get a confirmation email as soon as possible with all the information after your payment is completed. You can also look at your transactions later through the manage account section if you have a TxTag account. Last but not least, it's essential to keep in mind the late charge schedule and make sure you pay your invoice on time.