You might be wondering how to get a TxTag if you're new to Texas or want to learn more about the state's toll highways, keep reading the entire article. To pay for tolls electronically, you install a TxTag on your windscreen. It is offered by the Texas Department of Transportation and is valid on all state-owned tollways.
Your TxTag will be scanned at toll booths, and the toll will be automatically debited from your TxTag account. Driving in Texas with one is a smart way to save time and money, and buying one is simple. Additionally, using a TxTag eliminates the need for queue waiting and stress about running out of time. I'll go through how to get a TxTag in this blog post and the benefits and drawbacks of owning one.
Table of Contents
How do you obtain a TxTag?
Getting a TxTag is easy. You can get one TxTag.org website online or at the location where it is offered. You must register for an account on the TxTag website if you decide to order a Texas Toll Tag online. You can order a TxTag sticker and have it shipped to you after creating your account. You can even own one by calling the TxTag Customer Service Center (CSC) at 1-888-468-9824 & 001-214-210-0493 (International Customers). Apart from the above ways, you can get a TxTag by mail by sending the application form to 2420 Ridgepoint Drive, Austin, Tx, 78754.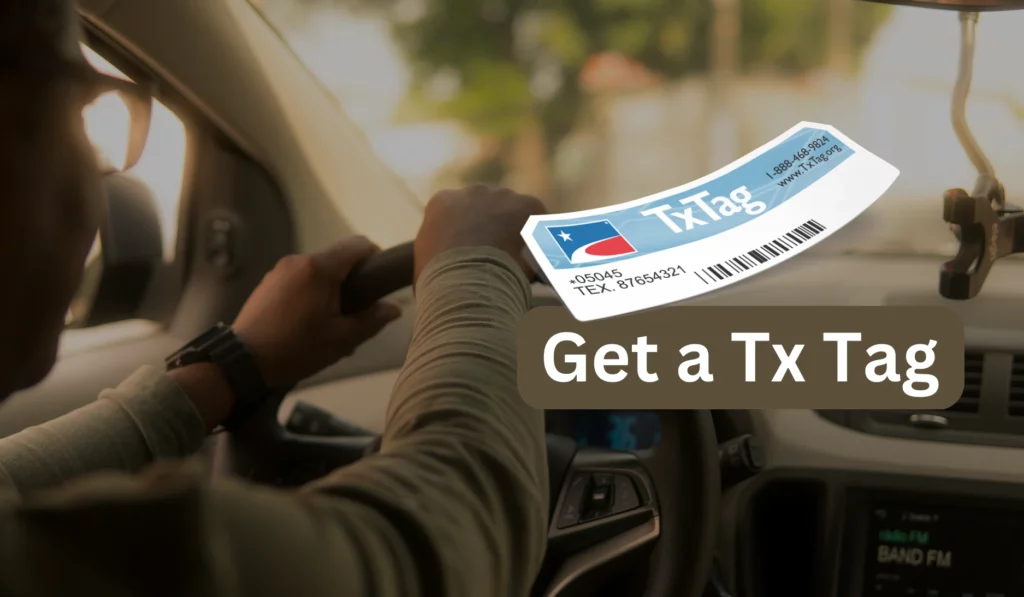 If you wish to get it in person, you will require a valid driver's license and a method of payment if you decide to purchase a TxTag from the nearest TxTag Customer Service Center (CSC). You will then receive a TxTag sticker from the CSC, and you'll be ready to go. Here are the locations
12719 Burnet Road in Austin
2420 Ridgepoint Drive in Austin
DPS Driver License Offices in Central Texas (weekdays from 8 AM to 5 PM)

1070 Westinghouse Rd, Georgetown, TX 78626
216 E Wells Branch Pkwy, Pflugerville, TX 78660
119 Conrads Lane, New Braunfels, TX 78130
After receiving your TxTag, you must register your car and fund your TxTag account to use it. You can do this online directly from the official website at txtag.org.
Existing Customer Registration
If you are an existing customer of TxTag, go ahead with the following procedure to get a TxTag online. You are requested to update the contact information to get the latest news or updates regarding your toll tag.
Visit the TxTag homepage (txtag.org), then login to TxTag account with your existing credentials.
You are redirected to the 'Update Your Login Credentials' page.
Verify the account using the Account number or PIN, or email address
After completing the verification process, you will be redirected to the 'Vehicle & Tags' page.
New TxTag Customer Registration
If you are new to the city, you must complete the new registration process to use the Texas Toll Tag. Here is the process to get a TxTag online.
Visit txtag.org and tap on 'Get a TxTag' on the web portal.
Fill up the necessary information like Plate Number, Country, State, Vehicle Type, and Tag type, then save the details.
If you wish to add another vehicle, you can do that from the same page. The maximum allowed is five vehicles per registration.
Tap on 'Continue to contact information' to continue the new TxTag registration process.
The whole next part is dedicated to 'Contact & Shipping Information.' Tap on 'Continue to Step 2' to move further and pick the suggested address.
This part is for security purposes. Enter the desired password, provide a security question with an answer, then PIN, and finally, 'Continue to Payment.'
Verify the details provided and agree to the terms & conditions to finish the registration process.
Finally, you will be greeted with an Order confirmation number and save it for your reference.
Alternatives to TxTag
There are alternatives if a TxTag is not what you desire. Utilizing a Pay By Mail system is the most widely used substitute. With the exception of sending you an invoice once you pass through the toll booth, this system operates similarly to a standard toll booth. The invoice must then be paid within 30 days.
Purchasing a toll pass is an additional choice. You can drive on all of the state's toll highways with a toll pass by paying a fixed monthly cost rather than having to pay for each individual toll.
Advantages and Disadvantages of TxTag
You won't ever have to worry about carrying cash or standing in line at the toll booth when you use a TxTag, which is its primary benefit. Additionally, you will receive a discount on all toll roads if you fall into specific categories like Veteran.
The main drawback of using a TxTag is that you must maintain funds in your account for it to function. Your TxTag won't be able to pay for tolls if your account is depleted, and you'll be charged additional fees.
In general, using a TxTag when driving in Texas is a great way to save time and money. It is a simple toll payment method that is very simple to get and use. So a TxTag is your best option if you seek a better way to pay tolls.
When ready, you may quickly order a TXTag online at txtag.org or in person at any TxTag Customer Service Center (CSC). Remember to add money to your TxTag account after you receive it and register your car. Additionally, don't forget to benefit from the discounts you might get by utilizing a TxTag. You'll be able to easily pass through tolls with a TxTag while also saving money.